News from the CSJ
---
07/05/2015

The Indian novices celebrated their first profession at our seminary in Chembaraky, on May 4...
03/05/2015

There were 3,500 seats for the dinner offered to all present, at the end of the priestly ordination of Fr Vargheese...
20/04/2015

On Saturday 11th April we lived the 14th priestly ordination of an Indian Josephite in the beautiful place of Valiyathura...
14/04/2015

It is on mailing the issue of Vita Giuseppina...
11/04/2015

The Mexican confrere Marco Polo López is ordained as deacon in Argentina...
21/03/2015

The Bishop of Viterbo ordains deacons five Josephites on the day of St. Joseph...
Pastoral Forum "The MF at the service of the last ones"
---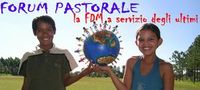 A proposal to
share
the humble, constant, but wonderful service that in various parts of the world our Family is carrying out for the most needing ones and to try to discern together the paths leading us to be more and more faithful to the charisma God gave us.
Every week
some Institutions of each nation or Province will be presented, and a specific discussion forum will be activated, in which all the site visitors can participate.
To know more, go to the "
Pastoral forum
"!




Josephites Multimedia